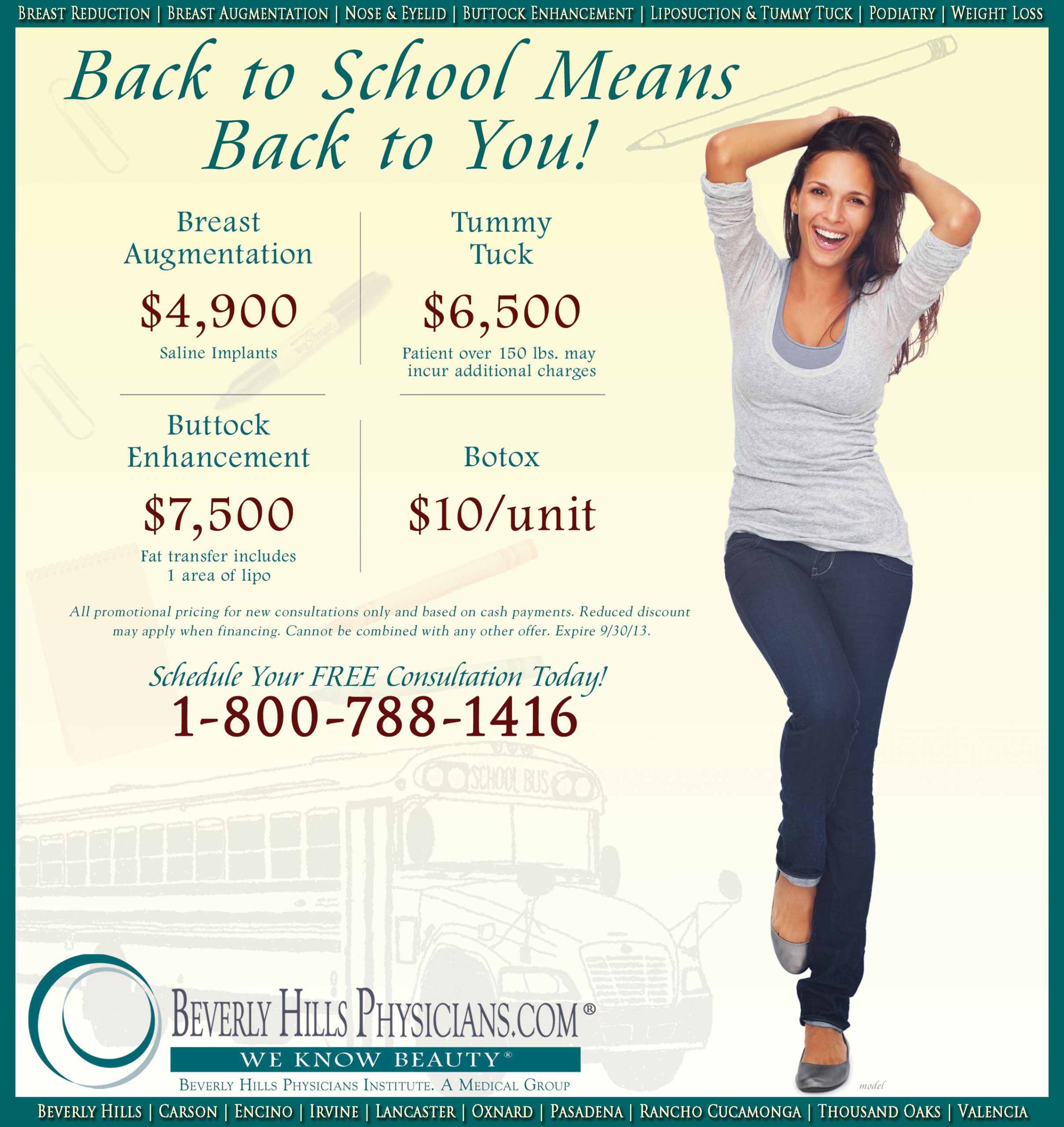 As the premier network of board-certified medical professionals, Beverly Hills Physicians is acclaimed throughout Southern California for providing world-class cosmetic and health procedures.
Those seeking liposuction, bariatric surgery or even podiatry have come to trust their specialists to provide the finest possible treatment. That's why it comes as no surprise that women seeking truly rejuvenating mommy makeover surgery increasingly trust BHP to deliver stunning results. In a mommy makeover, often including body sculpting, liposuction, tummy tuck, breast augmentation and vaginal reconstruction are all performed with world-class artistry in order to provide each mom with ideal physical beauty.
While summer is celebrated as the perfect time to let your hair down and enjoy beautiful, sun-soaked days, the autumn months bring a completely different energy. With the start of a new school year, it can become all too easy to get wrapped up in the hustle and bustle and neglect our own personal wellness and beauty. While there is plenty of activity for just about everyone when fall rolls around, the season can be particularly hectic for mothers. Many moms are sending their young ones to school for the first time, or starting their own classes for the first time – on top of the seemingly endless string of duties that young moms must accomplish. As emotionally fulfilling as motherhood may be, the physical stresses of pregnancy can take a toll on a woman's body that makes daily life even more stressful. By undergoing a mommy makeover at BHP before the new school year picks up pace, moms can take on their duties with renewed confidence and stunning, rejuvenated beauty.
Through their many years of experience providing top quality cosmetic procedures, surgeons at BHP know that every woman's body is unique, which is why they customize every mommy makeover for each patient's specific needs. Their team of medical professionals will even work with each patient to work out the right schedule and budget for each mommy makeover. Perhaps most importantly, thanks to BHP's meticulous skill and comprehensive care, each woman's recovery period is as short and comfortable as possible, ensuring each mom experiences minimized interruption of her life.
Though the malls are already jammed with back-to-school traffic, there are still several weeks before autumn activity reaches a fever pitch – time you can utilize to reach your health and beauty goals at BHP. For new moms seeking to rejuvenate the youthful beauty you enjoyed before pregnancy or anyone in need of the best possible health and wellness experts, contacting the BHP team is always the right choice. Where you go matters, their doctors are the most experienced and widely sought in California, thanks to their expertise in fields that include plastic surgery, weight loss and various other health services. To schedule a free consultation with the Beverly Hills Physicians team, please call 1-800-788-1416 or visit www.beverlyhillsphysicians.com.