Before her recent move to sunny California, Dr. Misra held the positions of General Surgeon, and was an Assistant Professor of Surgery at McMaster University. She was Co-Director of the Bariatric Surgery program, Associate Director for Center of Minimal Access Surgery (CMAS) and CTU Director for Senior Medical Students at St. Joseph's Hospital in Hamilton, ON, Canada. She was the Director and Co-Founder of the Canadian Institute of Bariatric Options (CIBO). This is one of the first Canadian comprehensive multidisciplinary outpatient weight loss programs that involves surgical, medical, psychological, nutritional, and fitness programs. She is Board Certified to practice General Surgery in both Canada and the USA.
Dr. Misra's experience is lengthy and spans over 13 years. Since completion of her training, she has performed thousands of advanced laparoscopic, bariatric, and endoscopic procedures. She has DaVinci Robotic Training Certification, Basic and Advanced Laparoscopic Skills Course Certification, as well as Advanced Cardiac Life Support certification. Dr. Misra's research experience includes presentations at numerous national and international research meetings on advance laparoscopic techniques and metabolic surgery. Currently she is working on projects regarding bariatric surgery and type II diabetes.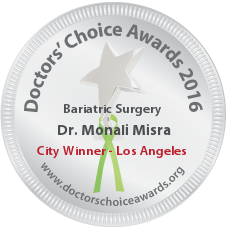 Locations:
Beverly Hills, Encino, Thousand Oaks & Inland Empire
Patient Testimonial:
"The staff was so friendly and helpful and Dr. Misra is AWESOME, she made me feel so comfortable from the moment I met her. I literally walked out of the office saying I am going with Dr. Misra."

Undergraduate Education
University of Saskatchewan, Canada

Medical Education
University of Saskatchewan, Canada
Residency and Fellowships

General Surgery
McMaster University, Hamilton, Ontario, Canada 1999-2004

Laparoscopic & Bariatric Surgery
Cedars Sinai Medical Center, Los Angeles, CA 2004-2005
Societies – Memberships – Affiliations

Fellow, American College of Surgeons

Society for American Gastrointestinal & Endoscopic Surgeons

Fellow, Royal College of Physicians & Surgeons, Canada

Staff, Cedars Sinai Medical Center; Los Angeles

American Society of Metabolic & Bariatric Surgeons
Contact Beverly Hills Physicians
For more information about transgender breast augmentation surgery or other services provided by Beverly Hills Physicians, call the number on your screen or request a consultation online.