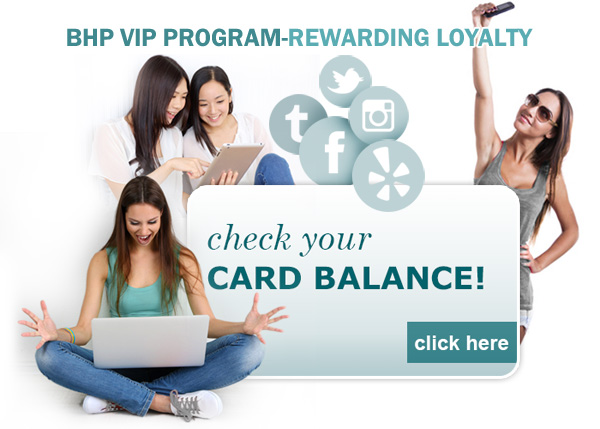 We would like to thank our patients for being the best part of Beverly Hills Physicians. The only thing that gives us more pleasure than a happy patient is a happy patient who shares their experience!
We developed the BHP VIP program to reward our best patients for their loyalty. Please continue to share your positive experience with your friends and family.
There are several ways you can become a BHP VIP and begin to earn points that can be applied towards services. Please see the list below and let your consultant know if you have any questions.
For more information on the program or to check your card balance you can always come back and visit this page. (https://beverlyhillsphysicians.com/about-us/bhp-vip-club.php)
When you become a BHP VIP you will be given a card that is registered in your name. All points/credit earned is non-transferrable. Each point earned equates to a $1 that can be used towards services in any of our locations:
Refer a friend/family member who has surgery: 50 points

Record a video testimonial for use on our website/online: 15 points

Write a positive review on Yelp, Google +: 15 points (see below for links to review)

Share your experience on Facebook, Twitter, or Instagram (like us/follow us and tag us too): 10 points (see below for links and tags)

More ways to earn points coming soon…..
Notes:
You will need to send proof of postings/reviews in an email to [email protected] .
Points are cumulative. You may earn in multiple ways. We reserve right to refuse points if posts are not deemed appropriate. Please note that points earned may expire. We reserve the right to change or discontinue program at any time.
Following/Tagging BHP
Facebook
https://www.facebook.com/beverlyhillsphysicians
Mention/Tag: Beverly Hills Physicians
Twitter
https://twitter.com/bhpdocs
Mention/Tag: @bhpdocs
Instagram
http://instagram.com/beverlyhillsphysicians_#
Mention/Tag: @beverlyhillsphysicians_
Reviewing BHP
The internet is a valuable resource for those seeking elective surgery. We encourage you to share your positive experience and success with others who might be seeking opinions, guidance, or reassurance. Yelp and Google+ are two of the most popular places for reviews. You will need to be logged in as a user on either platform. Please use the links below depending on your location.
Call 1-800-788-1416 if you have any questions.