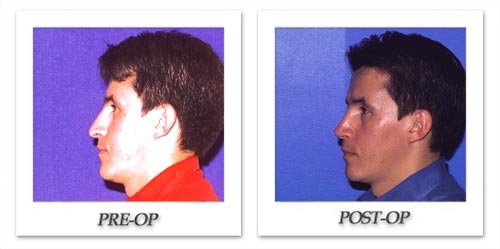 As the popularity and social acceptance of plastic surgery has increased in recent years, more and more males are unashamedly pursuing plastic surgery of all types. While more men than you might imagine are receiving such popular procedures as tummy tucks, facelifts, and even breast reduction, a male rhinoplasty (nose job) procedure remains one of the most popular operations. However, that doesn't mean that performing a successful male rhinoplasty is easy or simple. Not only is the nose an important sensory organ, but our top plastic surgeons here at Beverly Hills Physicians understand that all noses are different, and male and female noses are not alike. Male patients looking for a surgeon who will understand how to craft a nose that best suits their own very particular face should make it a point to find a surgeon who fully grasps and appreciates the distinctive aesthetics of a man's nose.
The main difference between male and female noses is that, to put it very simply, male noses tend to be bigger. While experts in male and female biology tell us this has to with men having a significantly higher proportion of muscle mass compared to women, from a purely aesthetic point of view this seemingly very simple difference can create some fairly complex challenges for a plastic surgeon who's committed to creating the most proportional and attractive results. Since a man's nose is likely to take up a larger amount of facial real estate, male rhinoplasty also requires a plastic surgeon to take maximum care to ensure that the nose "fits" – looking both natural and attractive on the patient's overall face.
Of course, rhinoplasty is only one of many procedures often obtained by male patients. Whatever the procedure, men who are interested in a plastic surgery need to be aware that where they go to seek treatment can make an enormous difference. Our dedicated doctors, nurses, and medical support personnel of Beverly Hills Physicians are among the finest currently working in the Greater Los Angeles and Southern California areas. In addition, we pride ourselves on our team of consultants who are happy to provide support on the non-medical aspects of obtaining a procedure. To be specific, especially since most plastic surgeries are not covered by insurance, where needed, BHP consultants are happy to work out payment plans that can make procedures affordable even for patients on a budget.
If you are interested in a rhinoplasty or any other cosmetic procedure, Beverly Hills Physicians would love to hear from you.