The body goes through so much during pregnancy and childbirth. While raising children is a one of life's most fulfilling experiences, regaining one's figure can have a huge influence on a woman's mental wellbeing and confidence.
A mommy makeover helps mothers reclaim a youthful, more toned appearance, allowing patients to feel good about their bodies once again.
What is a Mommy Makeover?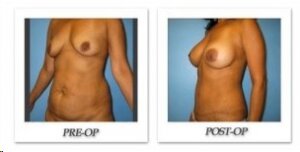 A mommy makeover is a suite of procedures that improves areas most affected by pregnancy. Each makeover is specifically tailored to fit the needs of the patient to achieve their desired results.
While mothers can choose from a wide array of treatments, here are the most popular procedures included in a mommy makeover:
Tummy Tuck
Also known as abdominoplasty, a tummy tuck removes excess skin and fatty tissue that is left behind after losing a significant amount of weight (like after pregnancy).
Breast Augmentation
Breast augmentation can enhance chest size and shape through implants or a fat transfer procedure.
Breast Lift
Pregnancy and breastfeeding can cause breasts to sag from a loss of elasticity. A breast lift corrects this, lifting the breasts to a more aesthetically pleasing position by removing excess, sagging tissue.
Contact Beverly Hills Physicians
For more information about a mommy makeover or any of our other services, call us today at the number on your screen