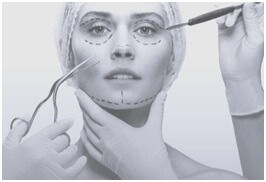 For most patients, plastic surgery and cosmetic procedures are not much different than other tools in the beauty arsenal – an attractive hairstyle, flattering clothing, and a face or eyelid lift for a fresher, more youthful appearance are just a means to the end of looking and feeling their best. What many people don't realize is that plastic surgery remains one of the most demanding of all medical disciplines. To be called a plastic surgeon, a doctor has to finish an additional two years of training. Procedures routinely demand extreme care and delicacy. Moreover, some surgeries, such as repairing cleft palates in small children, can have a lifelong impact not only on a young patient's health but on their overall psychological well-being and self-esteem.
The Birth of Face Making
As chronicled by the bestseller, The Facemaker by Lindsay Fitzharris, modern plastic surgery has its roots in one of the great tragedies of human history: World War I. Technological advances in early 20th-century weaponry were leaving many survivors with badly disfigured faces that were difficult even for their closest loved ones to behold. Fortunately for many of those survivors, visionary surgeons used their ingenuity, surgical skill, and what would now be considered rudimentary medical knowledge, to reconstruct the human face – a stunning achievement that was previously unthinkable.
Choosing Your Plastic Surgery Provider
While modern-day procedures such as face lifts might seem like minor matters in comparison to reconstructing an injured soldier's face, the truth is that changing the appearance of any area of the human body, but especially the face, requires a great deal of delicacy and ability. Whatever procedure you're considering, it's essential you choose your plastic surgery provider with care. The Beverly Hills Physicians team includes many of the finest plastic surgeons working in the highly competitive Greater Los Angeles area. If you are considering a procedure, please call us at the phone number above or request a consultation.