Pounds Lost:
160 lbs*
Q: Why did you decide to have the LapBand?
A: I was miserably overweight, depressed and unhappy with myself. I have struggled with my weight my entire life. Obesity runs in my family. I was living a very poor quality of life. I was also having a lot of weight related health issues. I developed congestive heart failure, high blood pressure, sleep aphelia, joint pain, etc. I was to the point where I was completely out of breath just walking from the couch to the bathroom. That's all changed now.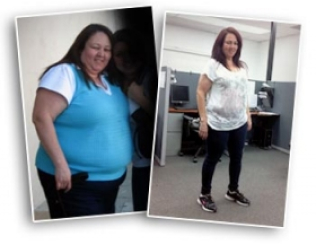 Q: Why did you choose Beverly Hills Physicians?
A: I did a lot of research and found Beverly Hill Physicians to have great expertise in Bariatric surgery. Also, knowing how much weight I had to loose, I would eventually need plastic surgery. They seemed to be a one-stop-shop with several specialists on staff. The staff is kind, caring & very helpful. I feel like Dr Feiz, Nikki, Marisol, Michelle & Kevin have been by my side the whole time. They make a genuine effort to connect with their patients.
Q: What has your experience been so far?
A: My experience has been life-changing. First of all, I am dating for the first time in years. (Yay me!!) All my health issues have completely disappeared. I no longer shop "plus size". I can fit comfortably in a restaurant booth. I no longer have to wear a seatbelt extension in my car. I can literally RUN down the street now with no problem. These things might not seem important to most people. However, to be able to keep up with the rest of the world without requiring special provisions is a wonderful thing. I finally have my life back. I would recommend the lap band to anyone who struggles to loose a lot of weight.*
Q: What surprised you the most?
A: What surprised me the most was the impact it had on my quality of life. My confidence level is through the roof. I am more outgoing. I go to the gym 4 days a week, I got hiking on the weekends. I get out & explore the world instead of sitting on the couch and letting life pass me by. I am now living a happy and most important HEALTHY life. I am enjoying myself now.
Q: What are you most looking forward to now?
A: I am looking forward to changing the picture on my driver's license. LOL!! Possibly meeting the man of my dreams. Who knows. I feel the possibilities are endless for me now. I look forward to living a long, healthy and happy life.
Q: Anything else you want to share …
A: I want to thank Dr Feiz for making me feel comfortable and confident from the moment I met him. You truly changed my life. I want to thank all my family, friends, & co-workers who stood by my side throughout my journey. I could not have done this without you!!! And to my boss Devin, Thanks for the bet !!
Contact Beverly Hills Physicians