Dr. Maurice Firouz, DDS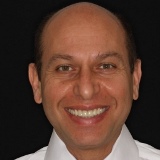 Dr. Firouz continues to improve his professional skills by taking an average of 50 units of continuing education yearly. He and his staff attend annual classes through the AAO and PCSO accredited institutions.
After graduating cum laude with a B.S. in Biological Sciences from UC Irvine, Dr. Firouz went on to receive his D.D.S. degree from UCLA, along with many awards. He attended University of Connecticut Health Center to receive specialty training in Orthodontics and Dentofacial Orthopedics. He returned to UCLA to teach and held positions as Co-director and Chairman of the Pre-doctoral Dental Clinic. His research project in preventive orthodontics was published in the prestigious American Journal of Orthodontics. Dr. Firouz maintains professional affiliations with the AAO, Pacific Coast Society of Orthodontics, West Los Angeles Dental Society, ADA and CSSO.
Dr. Firouz enjoys giving lectures and presentations to local groups and school children. He is also a volunteer orthodontist for the assistance league of Upland where he takes care of the orthodontic needs of underprivileged children.
Dr. Firouz has successully treated over 8,000 satisfied patients.
Curious about Dentistry in Southern California?
To learn more, contact Beverly Hills Physicians today. Our offices are all over Los Angeles and the Southland, including Beverly Hills, Encino, Thousand Oaks, Valencia, Pasadena and Oxnard.