If you've tried to lose weight naturally over the years, only to regain the weight back after several weeks or months of hard work— you're not alone.
For many people, achieving long-term weight loss can be challenging even if they're able to maintain a strict diet and regular exercise over many months or even more than a year. The truth is: your body is actively preventing you from reaching your weight loss goals on your own and most people eventually find it impossible not to backslide. However, medical assistance can put long-term, permanent weight loss within reach by combating the body's own biological processes meant to ensure survival.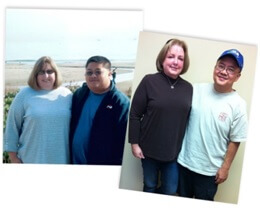 Lynn and Bang lost 135 pounds with gastric sleeves
Why Can't I Keep Off Weight Loss Naturally?
When an individual significantly reduces their caloric intake, the body perceives a threat of starvation and releases hunger signals to encourage eating. This can be exceedingly difficult, if not impossible to ignore, which is often why individuals end up regaining their lost weight some time after their initial success.
The matter isn't related to willpower either; the desire to restore the lost, excess weight is purely instinctual.

How Does Bariatric Surgery Help?
A bariatric procedure like sleeve gastrectomy removes a portion of the stomach, making it A) highly uncomfortable to overeat, and B) lessening the production of the aforementioned hunger signals.
Fewer hurdles makes losing and maintain weight loss much more manageable, and many patients go on to live happier, healthier lives because of the assistance that weight loss surgery offers.

Contact Beverly Hills Physicians Today
If you're ready to lose the weight for good, call us today at the number on your screen!