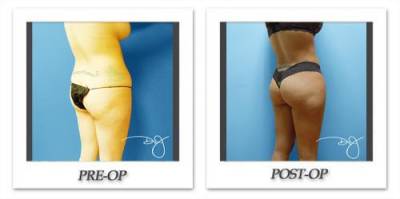 A recent article on Wetpaint points to a growing demand for plastic surgeries that increase the size of women's buttocks, as well as the curvaceous celebrities who may be inspiring some women to pursue a fuller, more pleasing backside. While there is no denying the pervasive cultural influence of the fabled backsides of Nicki Minaj, Kim Kardashian, and Jennifer Lopez, much of the responsibility for the increased popularity of buttock augmentation can also be ascribed to improved techniques that produce extremely pleasing results with an extremely high level of safety and success.
To be specific, the increasingly common technique often referred to as the Brazilian butt lift. The method, which employs transferred fat obtained via liposuction procedures, is generally agreed to produce results that look more natural, while creating the shapely, more voluptuous looks that have become increasingly prized in the 21st century. Moreover, there is an obvious win-win aspect in removing unwanted fat from one part of the body and adding it to another part of the body where it will add to a woman's feeling of desirability and self-confidence. Patients are able to simultaneously lose stubborn fat deposits that don't respond to either exercise or low-calorie diets, while gaining the bootylicious backside they've been hoping for.
Even more important, the fat transfer technique yields a lower rate of complications than procedures that employ synthetic implants. Among these is a reduced rate of infection, due to the fact that the fat is from the patient's own body. It is also less invasive and that tends to translate into a more rapid rate of recovery and less downtime following the butt augmentation procedure. It also significantly reduces the amount of scarring. Health matters aside, the health group also notes that many patients feel that the fat transfer technique not only looks more natural than synthetic implants, it feels more natural as well.
Of course, no surgical procedure is completely free of possible pitfalls. That's why we strongly advise the public to remember that where they go for any procedure makes a great deal of difference. At BHP, our roster of highly respected plastic surgeons has performed a great many highly successful buttock augmentations, as well as the full spectrum of other plastic surgeries.