Sean Fahid, DDS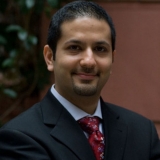 Dr. Sean Fahid graduated from the University of California Los Angeles in 1999 with a Bachelor of Science degree in Microbiology and Molecular Genetics.
In 2003, Dr. Fahid obtained his Doctor of Dentist Surgery (D.D.S.), from the University of Southern California School of Dentistry. Looking to further his education, Dr. Fahid completed a one-year Residency, in Hospital Dentistry, at the West LA VA Medical Center, in 2004. Dr. Fahid subsequently enrolled at the University of Connecticut where he completed a three-year post-graduate program and earned his Certificate in Endodontics and Master of Dental Science Degree, in 2007.
Having dedicated years in advanced training, education, research, and patient care, Dr. Sean Fahid is well trained in both conventional and surgical Endodontics, using the latest available techniques. Dr. Fahid also holds a part time faculty position at UCLA School of Dentistry's Endodontic Department.
Curious about Dentistry in Southern California?
To learn more, contact Beverly Hills Physicians today. Our offices are all over Los Angeles and the Southland, including Beverly Hills, Encino, Thousand Oaks, Valencia, Pasadena and Oxnard.