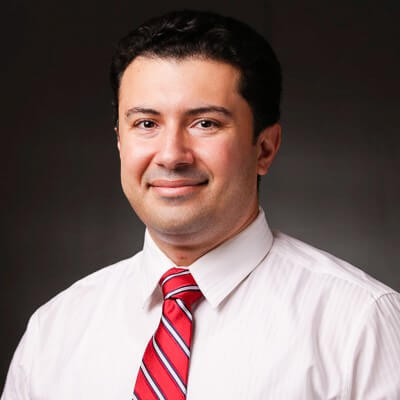 Feras Yamin, M.D.
Plastic & Reconstructive Surgeon
Dr. Yamin is a rising-star Plastic Surgeon in Beverly Hills, California. He has had an amazing journey across the world before settling in Beverly Hills. In addition to being fully trained in Plastic and Reconstructive Surgery, he is also a fully trained General Surgeon.
Dr. Yamin graduated from the Long Island Plastic Surgical Group and Stony Brook University's plastic and reconstructive surgery residency program in New York. He had the opportunity to work alongside leading experts in both reconstructive and aesthetic plastic surgery, including complex microvascular reconstruction, breast reconstruction, burn treatment, and aesthetic surgery.
He is fascinated with innovations and advances in Plastic Surgery, which led to his drive to incorporate the latest technologies in his practice. His attention to detail and optimum patient care, all geared toward superior outcomes of his surgeries. Dr. Yamin has a strong passion for art and human anatomy, he enjoys drawing and sketching anatomical illustrations. This passion has helped him finesse his abilities in plastic surgery. He offers a wide variety of aesthetic and reconstructive procedures of the face, breast, and body. He enjoys fat grafting and body sculpting. At the same time, he places much of his artistic sense and skills in mastering facial aesthetics and rhinoplasty procedures, especially for the ethnic noses..

Long Island Plastic Surgical Group / Stony Brook University
Fellowship, Plastic and Reconstructive Surgery

Texas Tech University
Residency, General Surgery

Loma Linda University
Medical Education and Internship

American Society of Plastic Surgeons (ASPS)

American Society for Aesthetic Plastic Surgery (ASAPS)

International Society of Aesthetic Plastic Surgery (ISAPS)
Contact Beverly Hills Physicians